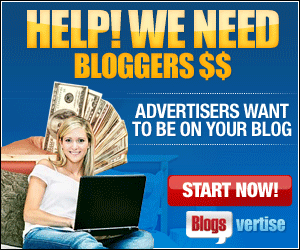 It's a question asked by new bloggers, "Should I get my own domain name? Or is it okay to use blogspot?" (or WordPress.com, or any other free blogging site).
Well, it is "okay" to use to use a free blogging site, but… getting a domain name is better, and getting one as early as you can is ideal.
What is a domain name?
A domain name is anything like yourblog.com or yourblog.net or yourblog.org.  It belongs to you specifically.
Why is it better?
Having your own domain name:
Increases your credibility
Looks more professional
Helps with branding by making your blog more recognizable and memorable
Gives you more control over site, and therefore more flexibility in regards to layout and set up
Is sometimes more appealing to advertisers
Many people use blogspot blogs to spam, so some advertisers and some readers may not trust a blog they see at blogspot.
To some readers, a domain name just looks better.  It's easier to read and remember "yourblogname.com" than to remember the longer "yoursitename.blogspot.com".  Because that "blogspot", or "wordpress" or whatever is so common and so recognizable, your eye just kind of… drifts there, instead of to the front part of the URL (or at least, that's what happens for me).
Something about yourblogname.com just gives you more authority.  Consider the "blogspot" the training wheels on your bike… you'll look like a newbie using it.
Oh no! I already have a blogspot/wordpress/etc… What should I do?
It's best to get a domain name straight from the beginning.  Maybe you didn't know, maybe you couldn't for some reason.  If you are on a free blogging site, don't fret.  You can switch over, and should, as soon as possible…
But wait! Don't go running to a registrar just yet.
Consider first:
How long have you had your blog?
What is your blog's Page Rank?
How many visitors go to your blog?
It may be "dangerous" to switch over.  If you have had your blog for a long time, then chances are you probably have a higher Page Rank and a larger amount of traffic.  You may lose your Page Rank if you switch your blog to a new domain name. (This is why it's better to get your own domain straight from the beginning).
If your blog is profiting and successful, you may want to take more time to reconsider what you want to do.  Will switching over help you become more successful, or will it just be a hassle that won't make much of a difference?  Every blog is different, and while having a domain name is better for most bloggers, maybe you are the exception.  And maybe you're not.  Weigh the pros and cons yourself.
You can transition over, but be aware of what will happen and do your research.
Oh, and if you're worried about all your old blog posts, there are ways to import them to your new domain name.
How to Make the Switch
1. Choose your domain name
The name that your blog is using at yourblogname.blogspot.com (which would be the "yourblogname" part) may already be fine, and may be usable as a domain name.  …but then again, maybe it's not perfect.  Here are some tips for choosing your domain name and fun domain name ideas.  Make a list of choices, because the one you want may already be taken.
Your domain name is important and helps with branding, so you should give this a good amount of consideration.
2. Get the domain name
Go to a domain registry and buy the domain.
Some domain registries: GoDaddy, BlueHost, Moniker, 1and1.com, Network Solutions, eNom, but there are many others out there as well.  Take a look around before choosing one.  Do your research so you know the pros and cons of each company.
3. Get hosting
Your host is where your website is stored, and is different from your domain name, although companies like GoDaddy offer both domain names and hosting.  Hosting companies provide space on a server for your website.  So you buy your domain name, but then you need a place for your website to be hosted.
4. Move your blog

Make sure that you let your readers know ahead of time that you will be moving and what you will be moving to, so they aren't surprised.  Ask people that are linking to you to use the new URL.  Make sure that they are all using the same URL… there is a difference between www and no www (ie: www.yourblogname.com or yourblogname.com)
5. Set up a redirect from your old URL to your new URL
So that if there are any backlinks to your old URL, when people go to your old URL they will automatically be redirected to your new URL.  I think the most used is a 301 Redirect.
6. Be patient and keep updating at your new domain

You may lose your PR, but it should come back in time… Google updates every few months so you may have to wait a few months.  Understand that ultimately, it's not your PR that matters, but the community that your blog creates.  And your community you can definitely bring with you on the transition, as long as you make sure that you've followed these steps.
Before making the transition, you should put a lot of thought into it.  Weigh the pros and cons and understand what risks you might be taking and what those risks mean for your blog specifically.  Every blog is different and there is no one right answer or one right way to do things.  For more information, you can read this link on Google Webmaster Blog about how to move your site, and/or this entry specifically about transitioning from Blogger to WordPress.